6" Miniature Beatles Set "Fab Four" Super Mini: 2 guitars, 1 bass and 1 drums

Miniature Beatles Set "Fab Four" Super Mini

1. Ringo Starr Beatles Drums Miniature Drums
2. Paul McCartney Hofner Bass Miniature Bass
3. George Harrison Country GentlemanMiniature Guitar
4. John Lennon Black Guitar Miniature Guitar

This set is a replica of Beatles Instrument used in Ed Sullivan Show
The size of the drums is in proportional with the size of the guitars
Handcrafted Miniature Replica Model Guitar with Stand Included + Miniature Drums

INCLUDES 4 mini mics to enhance the detail.
Intricate detail and fine quality made from mahogany wood.
Awesome collectible arts and great for gift.
*iPad in the background is not included (for size comparison purpose only)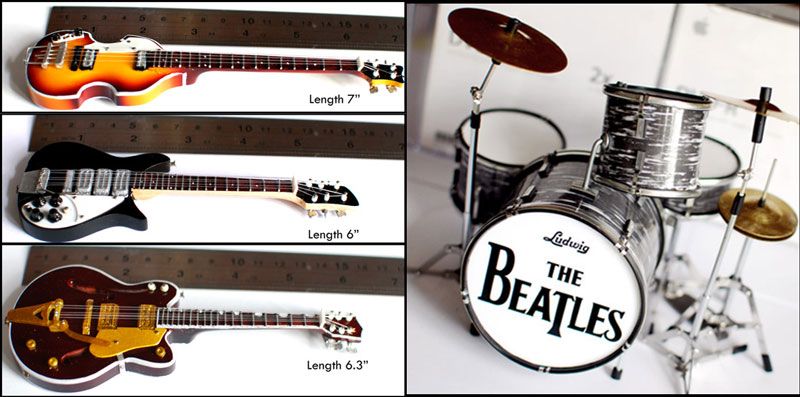 Miniature Guitar USA is not affiliated with any manufacturer of full-sized musical instruments or artist. Model names and artist names are used for look-alike examples only. In no way is Miniature Guitar USA affiliated with any artists or manufacturers mentioned on this website. Some famous names are used to depict the style of each type of instrument. None of the instruments on this website are exact replicas.